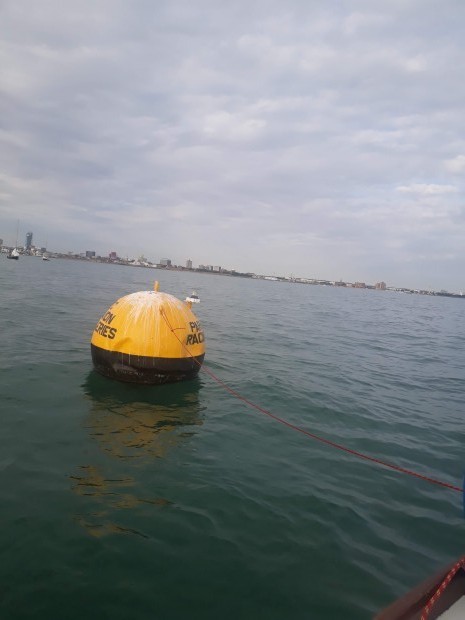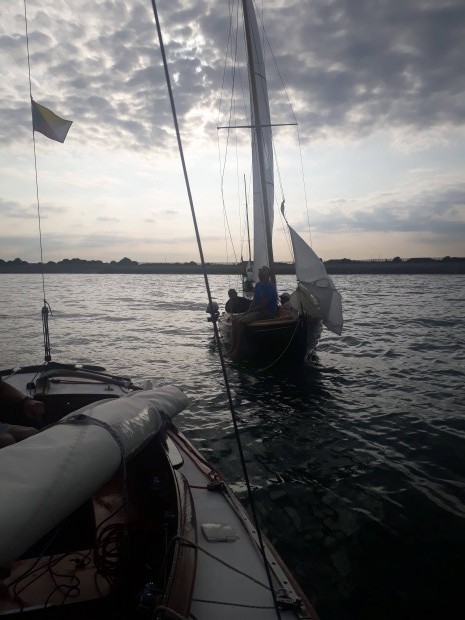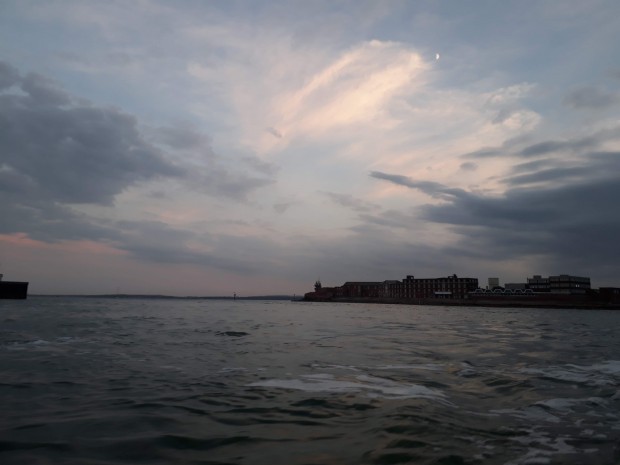 ​The optimistic course was set-
Laid mark P
PSC P
KB P
Finish at PSC
With strong tide and light wind the start was tricky, Z71 was slightly late for the start and Gareth decided that a spinnaker hoist was needed to get us to the line... but we were going upwind.... ! This tactic worked and the line was crossed by all Victories in a tight group. Now for the rest of the leg i had my head below the combing so i'm not too sure on what happened, i can report that there was still not much breeze but the tide was taking us up (and past) the laid mark, with Jimmy exclaiming to Gareth on several occasions "you do know its round to port?"
We made it in first position and hoisted the spinnaker, but alas there was very little breeze and we slowly drifted back towards the line whilst some of the rest of the fleet struggled to get around the windward, there was a pile up and everyone stalled.
Thankfully the OOD decided to shorten the course and we were finishing at PSC, there were a few puffs of breeze and spinnakers were filling allowing the fleet to spread out and find some air!
Holding our breaths, Z71 crossed the line after a 35 minute drift.
The results of the first race-
1st Z71
2nd Z78
3rd Z77
4th Z57
5th Z54
6th Z74
7th Z68
8th Z70
For the second race of the evening the breeze had built to a steady 5-6kts and Ian set the same course again. Everyone was a little early to the start, Z57 was over but went back, quickly making up the loss on the first beat.
Heading up to the windward mark Z78 and Z74 lead most of the way. The fleet were very close around the laid mark, Z71 made it round with Z57 who just touched the mark. After doing their turns Janet and Stretch gybed off to the Island and tried something different to make it up again.
Coming into KB Z74 rounded first with Z78 forcing Z71 around them. The tide had eased and there was a (relatively) quick beat up to KB and then to the finish. Z74 and Z78 were well ahead but the rest of the fleet had condensed with Z57 made up the distance and nearly caught up Z71, Z70 and Z68 with us all spread out trying to finish before eachother!
The results from the second race-
1st Z78
2nd Z74
3rd Z68
4th Z71
5th Z70
6th Z57
7th Z77
RET Z54
Thank you to OOD Ian!
The results from the multi series for the Zarena trophy-
1st Z78
2nd Z71
3rd Z57
4th Z75
5th Z70
6th Z54
7th Z77
8th Z74
9th Z68
10th Z76
11th Z69
12th Z58
13th Z53
14th Z48
Congratulations to Jim and Sid for winning the multi series!!!
Our next race will be tomorrow (Saturday 21st) for the Feltham Trophy. Rosina leaving at 12.45
See you on the water!