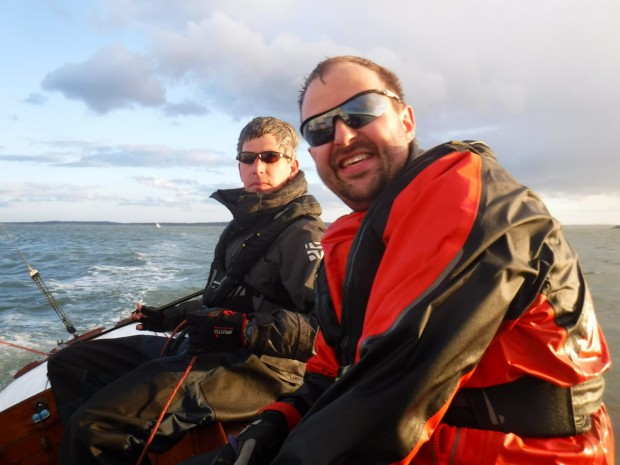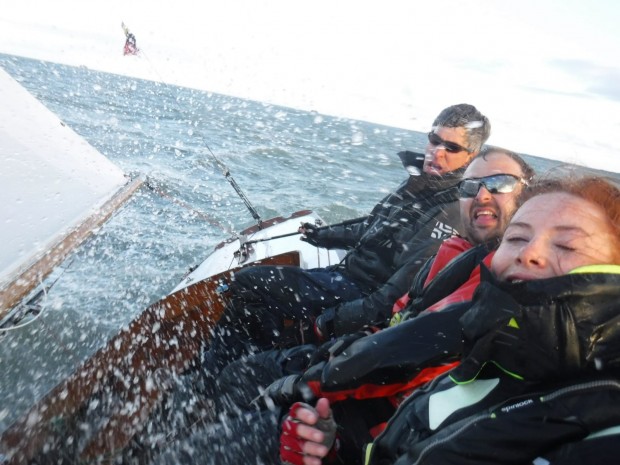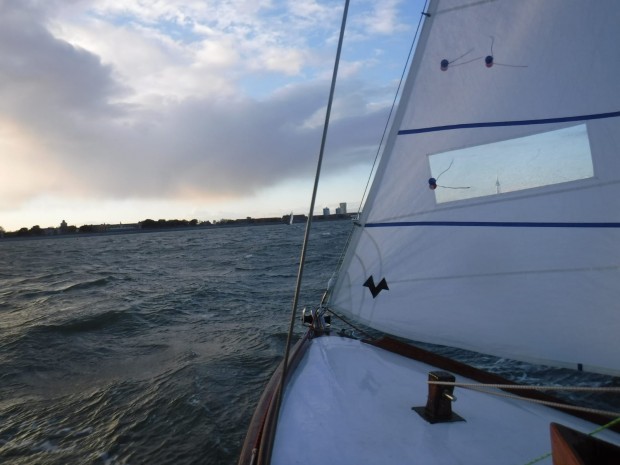 Down at the point there was a hubbub of sailors looking over the wall and out of the harbour to see if the conditions were sailable. In the end Z80, Z75 and Z71 decided to brave it, with Z57 (Janet, Stretch and Baby Stretch- Ben) and Sid on Galadriel as OOD.
The wind was shifting around but settled on a gusty Westerly 20-28kts, Haslar wall providing some relief from the wind and flattening the sea.
A course was set: PSC p - Laid Mark p - Gate FIVE LAPS!!!
The three boats lined up for the start with Z80 and Z71 (the only wooden boat out) starting at the pin end on port, Z75 flew down the line on starboard and made it in front of the other two. It was then a short beat to PSC, Z75 made it around first followed by Z71 and then Z80. Spinnakers flew out their bags and on Z71 the 'Cowes Week heavy wind protocol' was adopted. Z75, in the lead but not by much, felt the pressure from Z71 and struggled to get their kite to fly.
At the first leeward mark positions stayed the same, Z80 and Z71 hunting down Z75.

Now the rest of the laps blurred together but at the leeward mark on lap 3 or 4, Z71 made the silly decision to tack out of Z75s dirty air, leaving the race course open for Z80 to move into second. Z71 also suffered a minor mechanical; the mainsheet had double backed through the block meaning Gareth was fully sheeted on and couldn't ease through the >25kt gusts until crew Munch untangled the snake pit.
The five laps were short, sweet and a lot of fun with the finish gun going off after just 48 mins for Z75. A perfect way to dust off the cobwebs !
The final results were-
Z75 Nick, Ian and Jim D
Z80 Russel, Salty and Richard
Z71 Gareth, Munch and Zoe
There are two races left in the 1st Tuesday series with Z75 and Z80 currently in the lead, does anyone fancy taking them on?!

Thanks to the OODs for braving it on Galadriel (although you do have a cabin!) The next race is tomorrow for the 1st Thursday series.