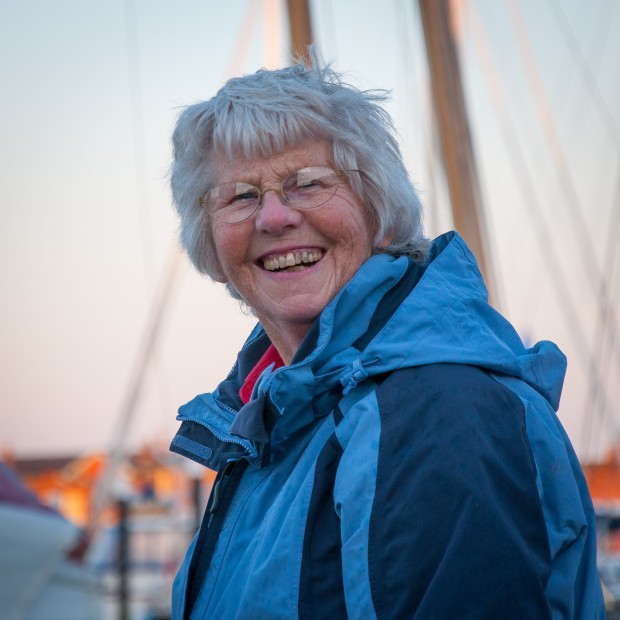 ​Delphine was born and lived her life in Portsmouth. During the war years she was an evacuee to a boarding school outside Portsmouth, and remembered very clearly travelling home on VE Day to find the parties in Portsmouth in full swing. Delphine joined the new National Health Service as a nurse, and retired in 1989 after over 40 years service, having worked for 22 years as a Theatre Sister before moving to Southampton as Senior Nursing Officer Theatres, and then becoming Head of Theatre Services for the City hospitals, developing a number of aspects of the service. Working out of Southampton General, she was known as 'Miss D,' and had a fearsome reputation for her uncompromising approach. Her Victory crew at that time, who's wife gave birth in Southampton, recalls a shiver running through the maternity ward at the news that Miss D was coming to visit!
On retirement Delphine turned her organisational abilities to help the Victory Class and served as Social Secretary, and overall Class Secretary 94-98. On a personal note she gave me great support in my time as class captain.
First and foremost however Delph was a sailor, a self taught seat of pants Victory sailor who could never be underestimated on the race course. Initially crewing with Bob Smith on Z19 Wild Rose, Delphine had the benefit of learning with something of a legend in the class, sailing with Bob at a time when Wild Rose won 127 races and was placed in more than three hundred in nearly six hundred starts. As well as learning the racing aspects she also recalled being required in those days to take long white gloves to Cowes Week (for meeting Royalty) as well as the Victory's tender, to get ashore from the rafted pile moorings in the Medina.
Delphine moved on to sail with Mike Bradmore in Z38 Minx, and as Mike ended his Victory sailing days Delphine took on ownership of Minx completely in 1984. The boat and its new owner were well matched and well named, Delphine having a mischievous character and a very minx like approach to getting things done to her satisfaction, both on and off the water! No one could make a Victory point upwind in quite the way Delphine could, and her determination to get her boat out racing saw some seasons where Minx sailed every race held. She was also a great ambassador for the class, always willing to take a potential new member out sailing. At one point it seemed that there was an entire generation of Victory sailors who had started their Victory racing forward of the thwart in Minx, having first experienced crossing the harbour in the trademark 10ft Fairey Ducking that was the boats tender.
In the 1990s a racing partnership developed between Andrew Terry, Martin Brown and Delphine… Delph and her 'Toy Boys' had some great success over this period, and Andrew became a co-owner in 1994 having graduated to being allowed to sail upwind while Delphine sailed the downwind legs. While Delphine and Minx never managed an overall Cowes Week win, the rest of the fleet knew well to watch them carefully. A typical example in 1999 saw Minx up against previous Cowes Week winners John Tremlett in Zinnia, Barry Middleditch in Steadfast, and Nigel Sefton Smith in Woozle. Add in Ian Andrew in Z50 and Chris Hornsey in Z10 and a first class fleet came to the line. Having won the last race of Cowes 1998, Minx proceeded to win the first race of Cowes 1999. Two days later on Monday Minx did it again, and Delphine got to go to the winners cocktail party. And finally, on a tricky light wind final Saturday, Minx won a third race! Never ever would a wise Victory sailor ignore Minx and her 'senior owner'
Delphine continued to sail on Minx until she was old enough to know better, and always took a great interest in Cowes Week results in particular. Minx continues to race and win on the water in 2019, and no doubt Delph would approve.
Geoff Dixon