Very competitive boat with the best class VCPR in its last full season ( 2019.)
Stored ashore 2020 and 2021 but now fully commissioned in the water , with all the bells and whistles, and ready to jump in and race.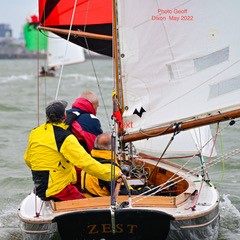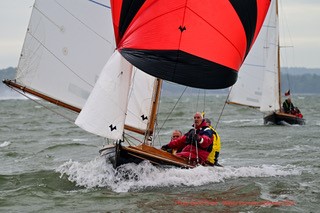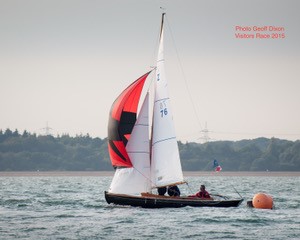 Haslar mooring fee paid for the year which I imagine can be transferred (subject to Class/Haslar approval).
Annual insurance paid 18th May 2022 which I imagine, similarly, can be transferred.
Built David Heritage, launched 2008 with built in buoyancy in the hull , buoyancy chambers fore and aft with sealing doors. GRP rudder tube /stainless steel rudder post. Encapsulated keel.
Featuring - Fijian mahogany rubbing strakes, toe rails, thwarts and coamings (with "granny rails")
Custom mainsheet jammer support post (all now in Deks Olje)
"Coppercoat" antifouling from new which lasted the predicted 10 years until a October 2018 refit by David Heritage when it was fully re copper coated, with new boot
topping and the hull gold line renewed.
So for the owner no re antifouling expense and hassle (apart from maybe boot topping ) for the next 6 or so years . The annual refit usually takes a max of about 3-4 days.
Marine ply floorboards and lead ballast to minimum class weight. (when last measured)
Custom sacrificial stern capping the better to resemble a wooden boat, and protect the aft deck edge - in carbon kevlar mat and epoxy resin over closed cell foam
Rig
Collar spruce mast fully stripped back all checked and re oiled Deks Olje (1 and 2) in 2018/19
Metal XOD type fitting and spreaders, metal parrot perch and mast top crane with Windex wind indicator
Standing rigging all in stainless wire with Hasselfors rigging screws
Backstay multi purchase adjuster led to the helm position
Jib Halyard in flexible stainless wire on metal sheeved mast block with powerful jib halyard tensioning arrangement
Main and spinnaker halyards in low stretch braid as are the spinnaker sheets.
Solid wooden boom and two wooden spinnaker poles
Rig tuning/tension notes available with tension gauge and, if required, I am happy to go out with the new owner(s) for a couple of hand over sails/races.
2017 New jib
2014 Main , jib and Spinnaker
2 older spinnakers, ? (another old main and jib ?- to check ).
Mostly roller bearing and/or Harken, including mainsheet ratchet jammer, automatic ratchet cleats on the spinnaker lead blocks, jib cleats and most control line cleats.
Powerful purchase double ended kicking strap set up, operable from the mast area or by the helm
Tacktick digital compass - (battery holds charge well )
Toe straps
Henderson manual pump
Electrical pump and gel battery ( used only for Cowes Weeks )
Flexible hinge tiller extension
Retractable (non snagging) metal deck cleats
As per class rules including new (April 2022) LED flare.
Danforth anchor with chain (stainless steel).
Paddles rather than sweeps.
Sufficient fenders and mooring lines
Specially manufactured robust aluminium (no rust) outboard bracket
-
many -too numerous to list but include blocks , rigging and mooring lines, shackles, stainless screws, bolts etc etc
Suffolk sails - full winter and summer covers .
Winter cover support timbers
10' GRP
dinghy (due an overhaul and repaint this year which I am happy to undertake) but functional enough as it stands
Near new galvanised launching trolley with inflatable rubber tyres and two spare wheels
Honda 2.3 HP outboard motor which has always been annually serviced by Jim
Oars
"Perry " type launching trolley - with Ford Transit axles and wheels replaced about? 5 years ago
Enough Deks Olje , non slip paint for the floorboards, touch up copper coat , and GRP polish for at least another season's refit .
A number of Fijian mahogany offcuts useful for a neat repair of any timber damage , eg rubbing strake rash
I think a fair price taking all into account is £22500.
Can be viewed at Haslar but would appreciate accompanying anyone planning on getting aboard .
Contact Kim 07775510637