​​ Many of you will already have heard the sad news that Billy Mulvin passed away last weekend. Billy was a long standing member of the Class sailing on Shearwater for over forty years.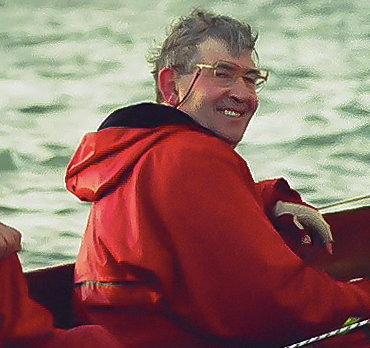 He was brought up in Dublin and moved to the UK in his early 20s having graduated from the Dental School at Trinity College and set up home in Cosham with his late wife, Sheila. He was a passionate sportsman playing rugby for Portsmouth as well as being selected for Hampshire. Retiring from rugby he sailed with his old team mates, Ian Mead and Ged Grieve in Shearwater for nearly fifty years. Billy brought his 'work-hard' 'play-hard' approach to sailing, especially Cowes Week. As well as loving the racing at Cowes, Billy fully embraced the social side where the trio were early adopters of the Royal Corinthian for the week, a legacy that lives on with the Class to this day. Many of you will recall the late night games of 'Bomber Command'. This always culminated in a port engine fire having to be put out by a soda syphon. The port engine was usually an X-Boat sailor! How Billy and his team mates ever sailed the next day remains a mystery to many.
Despite their 'tiredness' the following day they often found themselves with a gun. Their success was in no small part due to Billy's trimming skills and strength on the long spinnaker legs which remain a feature at Cowes. Upwind Billy was adept at keeping his cigarette alight in all weathers. He even managed to keep the ember burning on his Marlboro one day after falling into the Camber!
Aside from the Victory Class, Billy sailed in a number of IOR boats over the years including with Adlard Coles whose books many of you will have read. Billy was unfortunate to be the first person to be rescued in the tragic 1979 Fastnet Race while sailing with fellow PSC member, Tony Lloyd. Their boat, Camargue, capsized in heavy seas in the St George's Channel. Many will have seen the news footage of the crew being winched into the Culdrose helicopter and Billy's subsequent appearance on 'This is your Life'!
Billy was a life-long sportsman playing golf and squash. The latter probably longer than was sensible. He also had many interests which included history and archaeology and was a volunteer for the Probation Service.
Billy leaves children Siobhan, Neil and Jo. His funeral is at 11am on Thursday 13th June at St Thomas's Roman Catholic Church in Emsworth and afterwards at the Slipper Sailing Club.
Russell Mead